Posted on
November 3rd 2017 by Laurence Guinness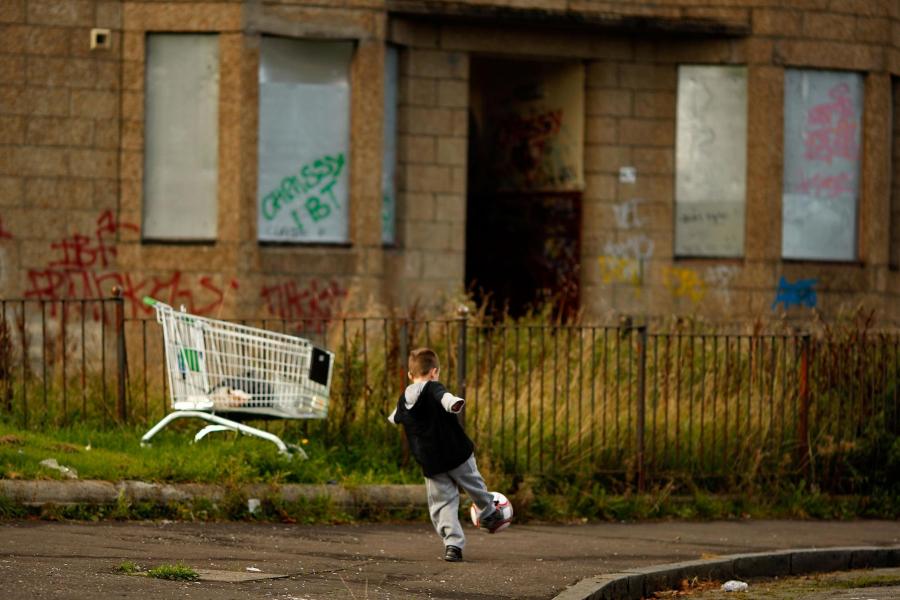 'I was in a place yesterday where the bed was pushed up against the kitchen cabinets'
Thousands of children in London are already "struggling to survive", poverty campaigners have warned after a report revealed benefit cuts are set to worsen the crisis.
Head of charity The Childhood Trust said "right here, right now children are desperate for help" as he pleaded for a rethink on the Government's universal credit reforms.
It comes as a study from the Institute of Fiscal Studies, published on Thursday, estimated benefit cuts will push an extra 400,000 children into absolute poverty, with levels set to increase by four per cent between 2015 and 2021/22.
Benefit changes, including the roll-out of universal credit, will account for three quarters of the total surge in child poverty over the next few years, the IFS report found.
Laurence Guinness, chief executive of London-based The Childhood Trust, told the Standard: "We are seeing right here, right now children who are desperate for help and are struggling to survive in London.
"These are children who are dependent on charities for their survival, who would starve otherwise.
"While the predictions are one thing and they are very bleak, there are children now who need help.
"We see up to six people living in one room, I was in a place yesterday in Haringey where the bed was pushed up against the kitchen cabinets, to get a drink of water from the sink you had to kneel on the bed. We are seeing this again and again.
"The real crisis is happening every day. Income inequality is greater than ever. People are working exceptionally hard who still can't afford to live properly."
The charity boss added his organisation is "very worried" about the roll-out of universal credit in the capital, adding: "The costs are disproportionate in London and the benefits do not reflect that. There needs to be additional support in London."
According to the head of national charity Child Poverty Action Group, Alison Garnham, paid work in London is "no longer a guaranteed route out of poverty".
"There is clear consensus now among independent analysts that we're on the cusp of a deep child poverty crisis," Ms Garnham said.
"It's shocking enough that we're looking at a near-future in which 37 per cent of our children will be under the official poverty line but we also  need to be clear that most of those children will be in a working household.
"Work is no longer a guaranteed route out of poverty, in London or elsewhere. "
She added: "Neither new tax allowances nor the so-called national living wage  have offset the deeply damaging freezes in benefits for working and non-working families and the deep cuts to tax credits and universal credit.
"London already has the highest child poverty rate in the country so the impact of any increase will be huge.
"The Chancellor can help limit the oncoming crisis in the Budget this month by ending the freeze on benefits and restoring the big sums taken out of universal credit.
"The takeaway message from this latest analysis is that unless we have preventative action from Government – sooner rather than later. Families who are just managing now will not be tomorrow."
The IFS study, which was helped by funding from the Joseph Rowntree Foundation, found the freeze on most working-age benefits will see around 7.5 million low income households have their benefit entitlements cut by more than £500 per year in real terms.
The limiting of tax credits and universal credit to two children will leave some low income families with £2,500 less in benefits than they otherwise would have received, the report said.
Dr Sam Royston, the Director of Policy and Research from The Children's Society said the two child limit which applies to tax credits and universal credit is one of the key policies to blame for the forecast interest in child poverty.
"The Children's Society's analysis suggests that this will affect three million children, with nearly two thirds of these children in working families," Dr Royston said.
"These shocking figures show that child poverty in this country is getting worse and more and more families are paying the price for punishing government policy that is pushing them to breaking point.
"With the four-year benefit freeze set against rising costs of the essentials, working families are being increasingly squeezed.
"Poverty devastates lives, but it needn't be this way. Changes to government policy would prevent hundreds of thousands more children facing cold homes, rumbling stomachs and being bullied at school.
"The IFS figures confirm the two-child limit, which applies to tax credits and universal credit, is one of the main policy drivers of the expected increase in child poverty..
"The current benefits freeze could also see affected families losing up to 12 per cent from the real value of their benefits and tax credits by 2020.  That is why we want the Government to urgently re-think its four year benefits freeze, benefit cap and two-child limit.
"The figures also show that child poverty will increase in all regions. With local authorities under severe financial pressure, rising poverty and increasing demands for children's services we want the government to address the significant funding shortfall in these services – predicted to reach £2bn by 2020.
"This would help prevent poverty in local areas most in need. If the Government does not take urgent action, then thousands of children will suffer as a result."
The Standard has contacted the Government for comment.
Laurence Guinness
Other News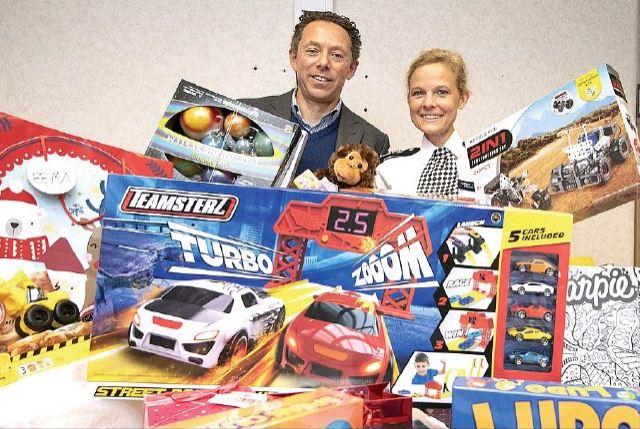 The Childhood Trust partner with The Metropolitan Police for Christmas
The Childhood Trust has partnered with The Met Police to help provide over 20,000 disadvantaged London children with presents. The Commissioner of the Metropolitan Police Service, Cressida...
Doing it for the kids: kickstarting sustainability in the local voluntary sector
Guest blog by Lou Coady, Head of Marketing at Localgiving.com Last July, Localgiving and the Childhood Trust ran a campaign to raise awareness and funding for grassroots organisations across the...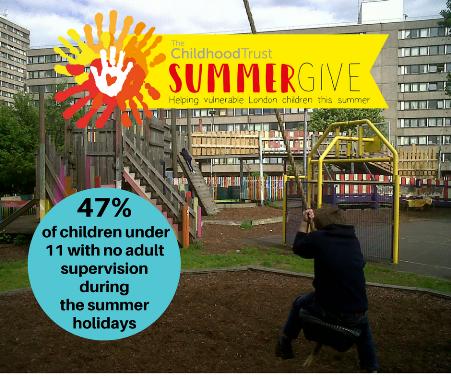 62% of children are "frightened" of being attacked or sexually exploited during the summer holidays.
Our 2017 Summer Give campaign was our most successful ever, raising £778,641 for 36 projects supporting children in every London borough. Support for disadvantaged children during the long summer...